After setting up the Encoder, follow these instructions to view your stream on LiveBonita.com and other Sites in our Network. If you have any problems with your settings, check out the Tips for Using the Encoder.
If you encounter any problem while trying to stream, contact our support team.
Configure Your Chat Client
With the Flash Media Encoder open, follow these steps to configure your chat settings, and verify on the screenshots that you have the same settings.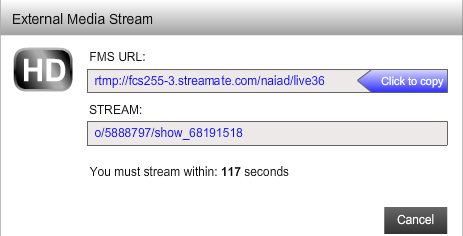 In the upper left select "External Encoding" in the Quality dropdown.
You won't see your stream in the normal spot. Don't worry, it's absolutely normal. You'll see yourself only in the external encoder.
Click to start your show. A window will pop up with 2 URLS in blue (see below).
Select the FMS URL link and copy it.
Paste it in the FMS URL field in the encoder.
Next, select the Stream URL from your client and copy it.
Paste it in the Stream URL field in the encoder.
Click on the green Start button in the encoder (Not the connect button, but the green button at the bottom of the encoder).
Voilà!
You're now streaming in HD using the encoder!
It's a good idea to check out the Tips for Using the Encoder, even if your video looks fine. This can also help you fix issues such as choppy video or a stretched image. Contact performer support if you need more help getting the encoder working.